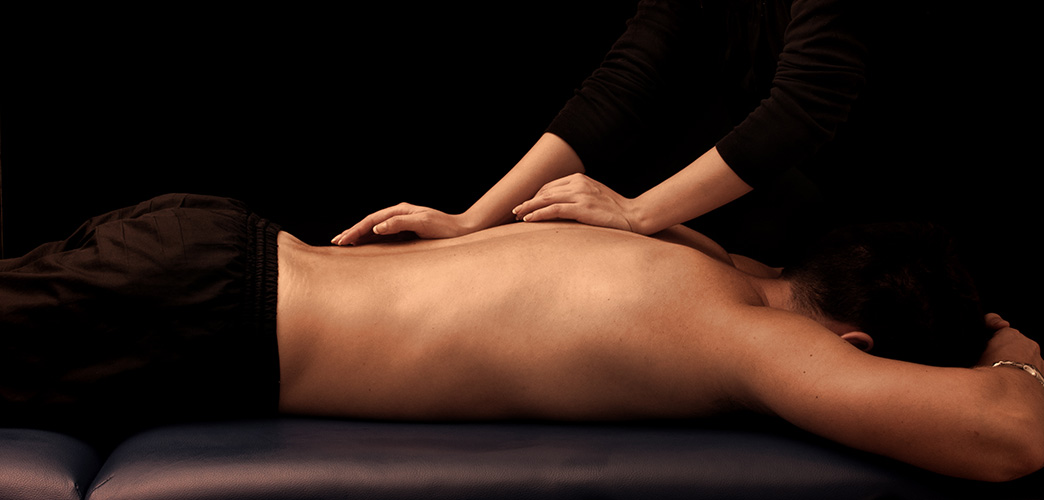 ROYAL THAI MASSAGE | 60 MINS – $125 / 90 Mins. – $185
An ancient healing that combines acupressure, energy balancing, stretching, and applied yoga exercises to relieve muscular tension, increase circulation and balance the body by unblocking, energizing and dispersing energy. [With or without heated oil] – Performed by experienced Thai Masseuse.
SHIATSU MASSAGE | 50 MINS – $105
The century old oriental art of massaging pressure points to relieve tension and relax tight muscles.
SWEDISH MASSAGE |  60 MINS – $125
A European massage using long strokes to increase circulation & relieve muscle tension.
SHIATSU/SWEDISH MASSAGE COMBO | 90 MINS – $185
Combination of long strokes and pressure points massage.
DEEP TISSUE MASSAGE |  60 MINS – $125
Releases chronic muscle tension & knots (also known as "adhesion")
SPORTS MASSAGE | 60 MINS – $110
Prepares the athlete for peak performance, drains away fatigue, reduces muscle tension, and promotes flexibility.
SPORTS / DEEP TISSUE COMBO | 90 MINS – $185
Combined for maximum benefits, focusing on relieving stiffness & tension.
THESE ADD-ON ENHANCEMENTS MAKE THE PERFECT ADDITION(S) TO YOUR TREATMENTS!
BODY SCRUB ADD-ON | 30 MINS – $60
HAIR & SCALP MASSAGE [ADD-ON] | 25 MINS – $50
A massage w/essential oil to ease & relieve stress, tension & pain.
FEET TREAT MASSAGE [ADD-ON] | 25 MINS – $50
A relaxing massage for the thousands of tired nerve endings on the feet.
TO MAKE A RESERVATION BY PHONE, SIMPLY GIVE US A CALL AT 323-734-7000
You may also complete and submit the form below. Once received, we will then respond with a confirmation of your appointments via email or phone.
If you do not receive a confirmation, this means we do not have an appointment scheduled for you, so please phone us if this occurs.
For assistance and additional information, please call 323-734-7000