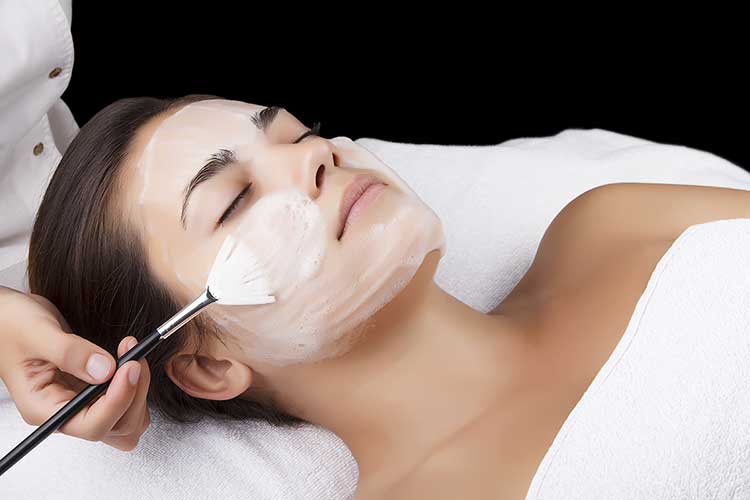 All consultations are complimentary and built into treatment time. Take the time to speak with a skin health specialist before your treatment. By discussing your concerns and needs a skin plan can be tailored just for you. All facial treatments will include extractions if necessary. We use only products that are paraben free, animal cruelty free and free of any additives and chemicals.
FACIAL CANCELLATION POLICY
ADVANCE BOOKINGS: We request at least 24 hours advance notice when cancelling or rescheduling your facial appointment, or you will be charged for the full service.
SAME DAY BOOKINGS: Same day bookings must cancel 4 hours prior to their scheduled appointment to avoid being charged for the full service.
All appointments scheduled with less than 4 hours advance notice and a no-show occurs, you will be charged for 50% of the amount of the service.
**CUSTOMIZED FACIAL (Recommended)
Let our Medical Aesthetician evaluate and discuss your goals and concerns and customize the best treatment for your skin type.
**Price dependent on treatment.
CLINICAL FACIAL TREATMENTS
ALGOMASK+ FACIAL | 50 MINS – $175 [Soothing, Hydrating, Decongesting]
An enriched treatment that restores & maintains the skins moisture level with thermo-cooling effect on the skin, decongesting treatment ideal for sensitive, rosacea, & acne prone skin.
***Recommendation: Most effective when combining with microdermabrasion or chemical peel
COLLAGEN FACIAL | 60 MINS – $200[Intense Hydrating, Restorative, Revitalizing, Anti-Aging Formula]
Hydrates, rejuvenates, reconfigures the skin's surface to subdue the visible signs of aging; undisputed & scientifically proven treatment to fight the facial lines &wrinkles.
***Recommendation: Most effective when combining with microdermabrasion or chemical peel
SEA C SPA FACIAL | 50 MINS – $165 [Vitamin C Treatment, Brightening, Antioxidant, Rejuvenating]
Combination of Vitamin C, organic mud, marine algae, powerful anti-oxidant that brightens/lightens/evens out skin tone; stimulates collagen, improves micro circulation and cell regeneration, oxygenates and tones with long lasting results in fine line and wrinkle diminishment (All skin types, excellent treatment for congested skin and aged skin)
***Recommendation: Most effective when combining with microdermabrasion or chemical peel
PURACNE OXYGENATING FACIAL | 50 MINS – $185[Skin Clearing, Control, Preventative]
5-step treatment formulated with BHA, AHAs & Probiotics to clear skin congestion; normalizes, detoxifies, revitalizes &controls acne; provides long lasting results. (extractions & High Frequency)
***Not to be combined with microdermabrasion or peel***
SPA FACIAL TREATMENTS
BHS – OXYGEN GLOW FACIAL – 50 MINS – $190[The red carpet glowing skin treatment!]
Medical Grade oxygen, essential vitamins, plant peptides & minerals utilized to hydrate, heal, smooth, and deliver vital nutrients deeply into the dermal layers.
BHS – ULTIMATE MICRODERMABRASION & OXYGEN FACIAL – 60 MINS – $235 [Best of Both Worlds!]
Microdermabrasion diminishes fine lines, enlarged pores, blackheads, age spots, scars; followed by a Medical Grade Oxygen treatment that leaves the skin hydrated, healed & smooth
GENTLEMEN'S FACIAL – 50 MINS – $210
Customized for a gentleman's specific skin needs, a deep cleansing is followed by an exfoliating scrub and massage. The treatment concludes with a mask to balance and hydrate your skin, also alleviate shaving irritation.
BHS – BACK FACIAL – 60 MINS – $215
Pampering treatment targeting various skin care needs for the back; incorporates deep cleansing, extractions, & purifying mask.
CHEMICAL PEELS & MICRODERMABRASION
TCA PEEL- FACE – $430 | NECK or DECOLLETE or SHOULDERS – $455
COMBINATION OF TWO AREAS – $650
Trichloroacetic acid, medium to deep depth peel improves skin conditions: softer, smoother, improved texture, tone & reduced hyper- pigmentation, collagen stimulation to plump up the lines and scars, for a smoother, more refined and beautiful complexion.
JESSNER PEEL – $250
Deep peel for extensive damage, improves skin appearance with a short recovery time, can restore skin from cholasma/melasma-"stained", sun damage, wrinkles, blemishes, acne scars or blotchiness to its original youthful appearance
Non-surgical treatment using aluminum oxide crystals to loosens and exfoliates the top layer of dead cells, results in a fresher, healthier and flawless look. Highly effective for all skin types, treat hyper pigmentation, fine lines, sun burns, whiteheads & blackheads, blemishes; promotes the growth of new cells and collagen in the deepest layers to improve skin tone and texture.
FACIAL ADD-ON SERVICES (Prices apply only as add-on to primary facial treatment)
(10-15 mins additional time to treatment)
MICRODERMABRASION:
CHEMICAL PEEL
$ 40
Face
$ 50
ENZYME PEEL
$ 35
Neck
$ 45
ALGO MASK$ 40
$ 40
Shoulder
$ 80
OXYGEN TREATMENT
$ 45
Décolleté
$ 65
Half Back
$ 75
Full Back
$ 125
Hands
$ 45
TIPS FOR PEELS
Peels can have a transformative effect on your skin, but need the right preparation. If you are interested in receiving a peel, please call to set up a complimentary skin analysis/consultation with one of our licensed skin care professionals prior to reserving a time for your peel. This analysis will ensure whether or not you are a candidate for the peel process.
If you are interested in a a peel, you will need to schedule a complimentary skin analysis/consultation prior to booking your peel or have your skin analyzed during your facial appointment. If you are a candidate, you may schedule your appointment accordingly.
TO MAKE A RESERVATION BY PHONE, SIMPLY GIVE US A CALL AT 323-734-7000
You may also complete and submit the form below. Once received, we will then respond with a confirmation of your appointments via email or phone.
If you do not receive a confirmation, this means we do not have an appointment scheduled for you, so please phone us if this occurs.
For assistance and additional information, please call 323-734-7000