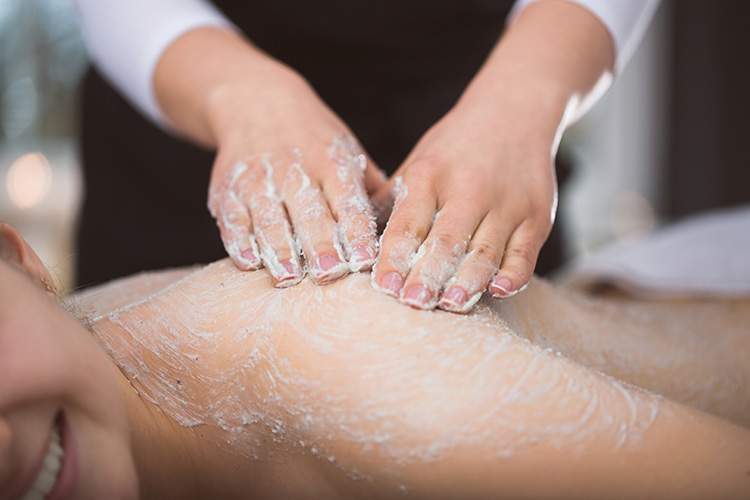 BODY SCRUB | 30 MINS – $80
BODY CARE | 50 MINS – $110
BODY SCRUB/BODY CARE COMBO | 80 MINS – $170
An invigorating scrub /w seaweed soap that exfoliates and cleanses your skin, removing dead layers of skin, improving circulation.
Followed by a soothing skin conditioning massage /w milk, oil, cucumber mask, and yogurt that leaves the skin feeling satin smooth.
A complementing combo that maximizes the benefits of both treatments.
SUGAR POLISH TREATMENT | 40 MINS – $105
An invigorating exfoliation /w sugar polish, leaving the skin polished, nourished & glowing.
VITAMIN MOISTURIZING MASSAGE w/ AROMA OIL | 60 MINS – $130
A refreshing and rejuvenating massage /w aroma oil with lotion
THESE ADD-ONS MAKE THE PERFECT ADDITION(S) TO YOUR TREATMENTS
BODY SCRUB ADD-ON | 30 MINS – $60
HAIR & SCALP MASSAGE [ADD-ON] | 25 MINS – $50
A massage w/essential oil to ease & relieve stress, tension & pain.
FEET TREAT MASSAGE [ADD-ON] | 25 MINS – $50
A relaxing massage for the thousands of tired nerve endings on the feet.
TO MAKE A RESERVATION BY PHONE, SIMPLY GIVE US A CALL AT 323-734-7000
You may also complete and submit the form below. Once received, we will then respond with a confirmation of your appointments via email or phone.
If you do not receive a confirmation, this means we do not have an appointment scheduled for you, so please phone us if this occurs.
For assistance and additional information, please call 323-734-7000